Oatmeal cookies are one of my husband's favorite cookies. Hard to think I would try to change our favorite oatmeal cookies recipe. Well, I decided it was time for a change, omitted the cinnamon and added orange peel, orange juice and dried cranberries. The results, let's just say my cookie monster thinks they are fantastic! That is all I need to give this recipe 5 stars.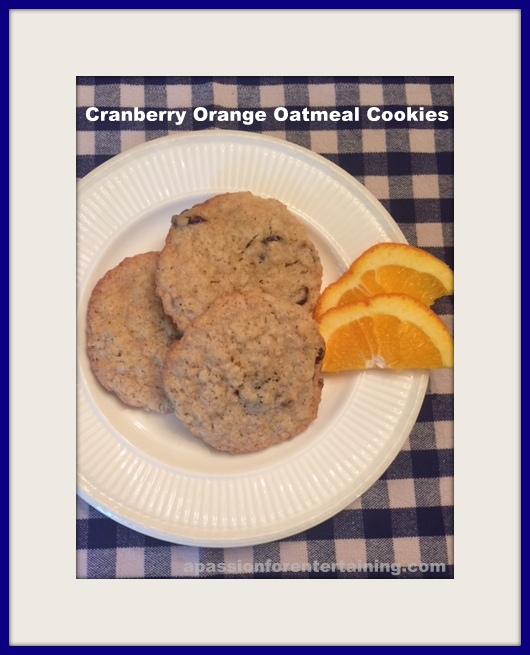 Cranberry Orange Oatmeal Cookies
2015-08-25 14:53:57
Ingredients
2 cups flour
2 cups granulated sugar
4 teaspoons baking powder
1 teaspoon salt
1 teaspoon nutmeg
1 cup butter, softened
2 eggs
4 tablespoons grated orange rind
2 tablespoons orange juice
3 cups oatmeal
1 cup dried cranberries
Instructions
In a mixer, combine butter and sugar, beat on medium speed until light and fluffy. Add eggs, one at a time. Combine dry ingredients together. Slowly add to creamed mixture. Add orange juice and orange rind, combine. Stir in oatmeal and cranberries. Preheat oven to 375. Drop by tablespoons on parchment lined cookie sheet. Bake 12 minutes.
A Passion for Entertaining http://apassionforentertaining.com/