Now that Thanksgiving is over, I was thumbing through my recipes and I came across another family favorite. I remember always having Cranberry Nut Bread during the holidays. I think my favorite memory of this bread was on skiing trips. I grew up very close to a ski resort and every Saturday and Sunday would spend the day skiing with my friends. My mom always packed goodies for me to eat and one of my favorites was cranberry bread slathered with cream cheese and put together as a sandwich. These were highly sought after as my friends were always hoping she would pack extras (and she typically did). Always great with coffee, tea or my favorite; sandiwiched with cream cheese. Perfect to bake one for now and freeze one for later.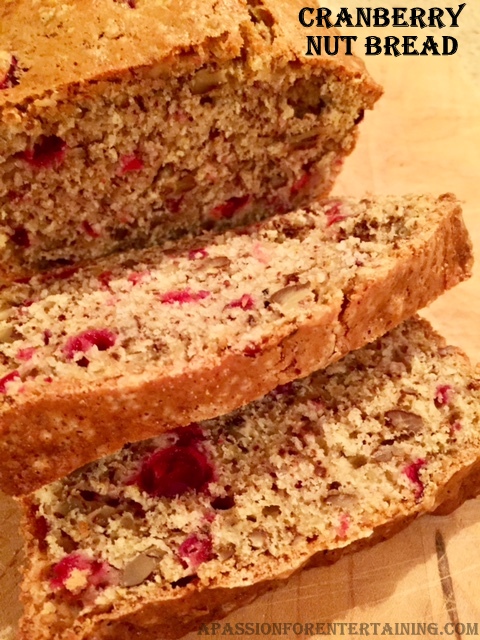 Cranberry Nut Bread
2016-11-28 13:32:56
Ingredients
4 cups flour
2 1/2 teaspoons baking powder
1 teaspoon baking soda
1 teaspoon salt
2 cups sugar
2 cups chopped pecans
2 cups chopped fresh cranberries (coarse chop)
4 tablespoons unsalted butter
2 eggs, slightly beaten
2 oranges, grated then juiced
Instructions
Preheat oven to 350 degrees, grease 2 - 8 1/2 x 5 inch loaf pans.
Mix dry ingredients in a large mixing bowl. Add cranberries and pecans, mix. In a 2 cup measure, melt butter, add grated orange peel and juice from both oranges. Add enough water to make 2 cups. Add liquid and eggs to dry ingredients. Mix well with a wooden spoon until all ingredients are incorporated. Divide dough between the two prepared loaf pans. Bake for one hour or until tester comes out clean. Cool slightly and turn out of pans to finish cooling.
Freezes beautifully.
A Passion for Entertaining http://apassionforentertaining.com/