Fall is soup season and there is nothing better than a delicious bowl of soup. This one is especially good for Mexican food lovers. I know you can still find fresh corn at the markets however if you can't, this soup is also delicious if you use frozen corn. Easy to prepare and even better when you top with your favorite Mexican toppings, including fresh tortilla chips. I think fresh homemade tortilla chips are such a treat, for in this soup; I used corn tortillas however, they are equally delicious when you use flour tortillas. I remember when my children were young, fresh tortilla chips were one of their favorites. They are so much better than chips in the bag. You can even sprinkle hot flour tortilla chips with cinnamon sugar for a wonderful treat. After you try these, you may never buy bagged chips again!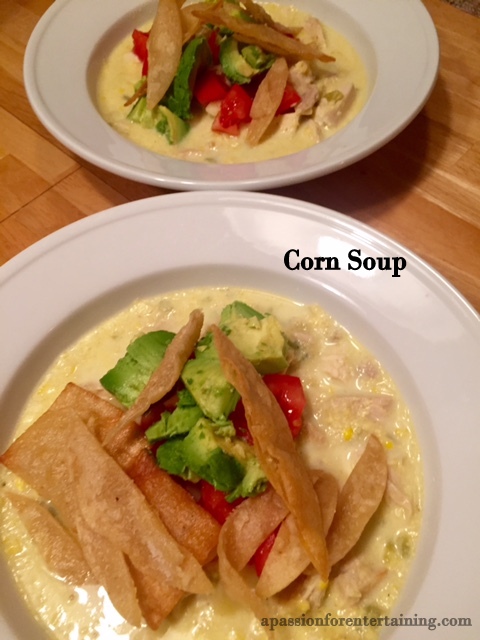 Corn Soup
2016-09-28 14:41:42
Serves 6
Ingredients
3 1/2 cup fresh or frozen corn kernels
1 cup chicken broth
4 tablespoons butter
2 cup milk
1 teaspoon cumin
1 clove garlic, minced
1 4-ounce can diced green chilis
3 dashes Tabasco sauce
salt and pepper, to taste
canola oil, enough to cover 1/4 inch of medium frying pan
corn or flour tortillas
diced tomatoes
2 cups shredded cooked chicken
1 cup shredded Monterey Jack cheese
condiments to top soup
chunky salsa
sliced black olives
sour cream
sliced green onions
diced avocados
Instructions
In a blender, puree corn and chicken stock. In a stockpot, melt butter, add minced garlic and cook until fragrant, add corn puree. Simmer over low heat for 10 minutes, stir frequently. Add milk and cumin. Heat to boiling, reduce heat and stir in green chiles, salt, pepper and Tabasco. Cook 20 minutes, stirring occasionally.
Cut tortillas into pieces. Heat oil in heavy skillet. When hot, fry tortillas until golden brown on both sides. Drain on paper towels. Salt while hot. Put equal amount of chicken and diced tomatoes in each bowl. Add cheese to simmering soup. Ladle soup into bowls, top with desired condiments and tortilla chips.
A Passion for Entertaining http://apassionforentertaining.com/