Looking for that something special to make your valentine? These citrus cut outs would be the perfect treat. Trust me when I say this recipe is perfect to use with cookie cutters, easy to roll out and delicious. For the greatest success, refrigerate the dough as noted, make sure the surface you are rolling the dough on is dusted with flour and keep turning the dough as you roll the dough so it does not stick. You can use any variety of cookie cutters, I prefer these large heart cookies. Sure to win the heart of your valentine!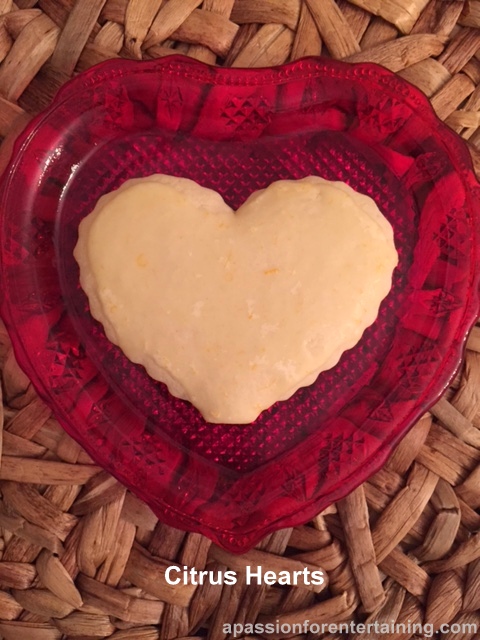 Citrus Hearts
2016-02-07 08:42:52
Ingredients
1 cup butter, softened
2 cups sugar
3 eggs
2 tablespoons buttermilk
5 cups flour
1 teaspoon baking soda
1 1/2 teaspoon fresh lemon rind, grated
1 teaspoon lemon extract
Instructions
Cream butter and sugar until light and fluffy. Add eggs one at a time. Add buttermilk. Add baking soda, flour and lemon rind. Stir in lemon extract, mix until well combined. Wrap tightly and refrigerate for 4 hours.
Preheat oven to 400 degrees. Roll dough to 1/8 inch on a floured surface. Cut with cookie cutters, place on parchment lined baking sheets. Bake 6 - 7 minutes. Cool on rack.
This recipes makes 4 - 5 dozen depending on the size of your cookie cutters.
Notes
Citrus glaze
In a medium mixing bowl mix 1 1/2 cups powdered sugar with orange juice (add 1 - 2 tablespoons at a time) until you have a thin spreading consistency. I also like to add 1 teaspoon fresh orange rind and lemon rind grated to my glaze. Spread glaze on cooled cookies.
A Passion for Entertaining http://apassionforentertaining.com/