Well, not exactly flat tires, but cinnamon rolls that look like the air has been let out! My mom was an avid bread baker and she always was trying something new. This is one of her recipes, that I think is a real winner. For seasoned bread bakers, these are a cinch to make. For those of you new to bread baking, this is a sure-fire recipe to try. The dough is easy to make and a great beginner recipe. I had an afternoon free and decided these were just the thing to make. I think you will agree, they are well worth your time and your kitchen will smell divine. They are crisp and delicious, where is my cup of coffee?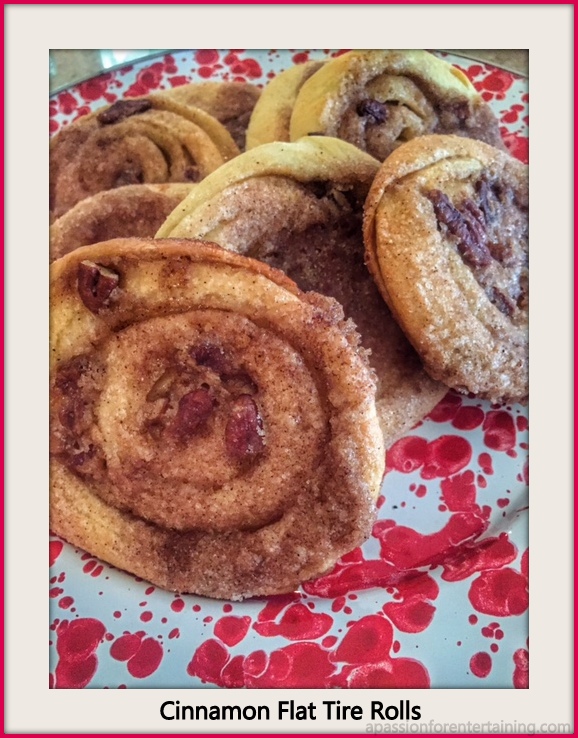 Cinnamon Flat Tire Rolls
Ingredients
3 1/2 - 4

cups

flour

1

package

active dry yeast

1 1/4

cups

milk

1/4

cup

granulated sugar

1/4

cup

butter

1

teaspoon

salt

1

egg

1/2

cup

granulated sugar

1/2

cup

packed brown sugar

1/2

cup

butter, melted

1/2

teaspoon

ground cinnamon

1/4

cup

melted butter

1

cup

sugar

1/2

cup

chopped pecans

1

teaspoon

ground cinnamon
Instructions
In a large mixing bowl combine 2 cups of flour and the yeast. Heat milk, 1/4 cup sugar, and salt in microwave for 80 seconds. With the dough hook on your mixer, slowly add the milk mixture. Beat at low speed for 1 - 2 minutes until all of the flour is incorporated. Add the egg. Add remaining flour until the dough does not cling to the sides of the bowl. Mix on medium speed for 3 minutes. Place dough in a greased bowl, turn over once to grease surface. Cover, let rise in a warm place until double in size (1 - 1 1/2 hours).

Punch dough down and cut in half. Cover and let rest for 10 minutes. Flour the surface you will be rolling the dough on, roll the first half to a 12 x 12 inch square. Combine 1/2 cup melted butter with 1/2 cup sugar, 1/2 cup brown sugar and 1/2 teaspoon ground cinnamon. Spread one-half of the sugar mixture over the rolled dough. Roll dough jelly roll style, pinch edges, cut into 12 slices and place on parchment lined cookie sheets (I used 3 cookie sheets). Repeat with the other half of dough. Flatten rolls to about 3 inches in diameter. Cover and let rise until double in size approx. 30 minutes.

Combine the remaining 1 cup sugar, pecans and 1 teaspoon cinnamon, set aside. Melt remaining 1/4 cup butter. Cover rolls with a piece of parchment or waxed paper. Use a rolling pin to flatten the rolls 1/4 inch thickness; remove paper. Brush rolls with melted butter and sprinkle with sugar mixture. Cover again with paper and roll rolls flat. Bake 400 degrees for 10 - 12 minutes.