These are the perfect muffins to serve guests on the porch in the morning or in front of a cozy fire with coffee. These muffins can be prepared and baked in under 30 minutes. The ingredients you probably already have in your pantry and refrigerator. These muffins taste like you make a trip to the bakery. I recommend serving them warm. I remember taking these muffins to early morning soccer games when our children were little. Nothing like a large thermos of coffee and warm muffins to share; what a great combo to get the fans in the spirit of the game.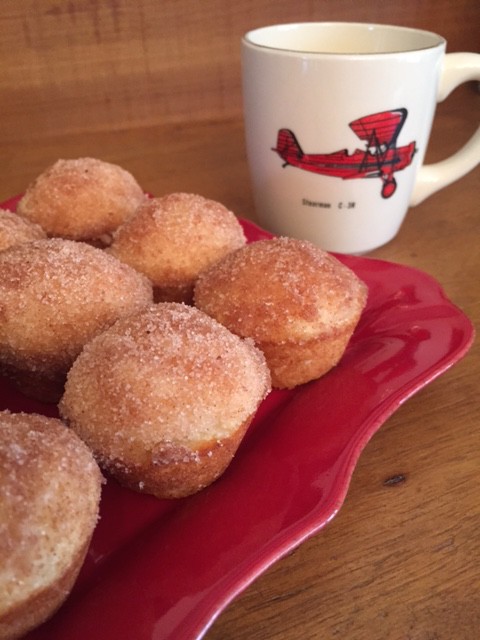 Cinnamon Breakfast Muffins
2015-01-25 09:46:37
Tastes just like a fresh baked doughnut
Ingredients
1 1/2 cups flour
3/4 cup sugar
2 teaspoons baking powder
1/4 teaspoon salt
1/4 teaspoon nutmeg
1/2 cup milk
1 egg, beaten
1/3 cup butter, melted
Topping
1 teaspoon ground cinnamon
1/2 cup sugar
1/3 cup butter, melted
Instructions
Preheat oven 400
Combine first five ingredients. Add milk, egg and 1/3 cup melted butter. Mix thoroughly.
Grease and flour 2 mini muffin tins. Fill muffin tins 1/2 full (makes 24 mini muffins).
Bake 400. 12-14 minutes until edges are golden brown.
While muffins are cooking, combine remaining 1/2 cup sugar and cinnamon. Melt remaining 1/3 cup butter. Remove muffins from pans immediately and dip in butter and sugar mixture. Serve warm.
A Passion for Entertaining http://apassionforentertaining.com/