We were participating in a wine tasting of the wines of the Piedmont Region of Italy. I wanted to make an Italian cookie that would compliment this region and these wines. I immediately thought of making biscotti and decided on a chocolate orange combination. Biscotti are easy to make and I think homemade biscotti are so much better than the store-bought variety. The crunch and crispy texture of these cookies are sensational. Perfect to serve with a glass of wine, a cup of coffee or a cup of espresso. Delizioso!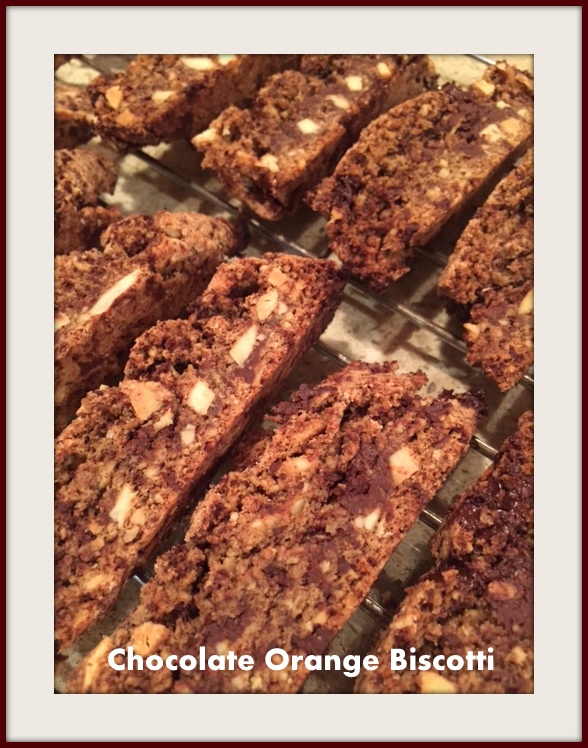 Chocolate Orange Biscotti
2015-11-16 13:56:39
Ingredients
1 cup slivered almonds
1 3/4 cup flour
1 cup sugar
1/8 teaspoon salt
1/2 teaspoon baking powder
1/2 teaspoon baking soda
3/4 pound bittersweet chocolate, coarsely chopped
2 large eggs
1 teaspoon vanilla extract
2 tablespoons orange liqueur
Zest of one orange, grated
Instructions
Preheat oven to 375 degrees. Line two baking sheets with parchment.
Spread the almonds on a baking sheet and toast in the preheated oven. Watch carefully, they will become golden brown in 5 - 7 minutes. Once golden, remove from oven and cool.
Combine the flour, sugar, salt, baking powder, and baking soda in a large bowl. Place 1/2 cup of the flour mixture in a food processor, add 1/2 cup toasted almonds and 1/2 cup of the coarsely chopped chocolate, process until it becomes powdery. Stir into the flour mixture, add remaining nuts and chocolate.
In a small bowl, combine the eggs, vanilla, orange liqueur, and orange zest until thoroughly combined. Fold the egg mixture into the dry ingredients with a fork. Continue by kneading the the mixture until it forms a ball. Press the dough down and divide into 4 equal portions. Shape each piece into a log that 1 1/2 inches wide and 12 inches long. Place each log (2 per baking sheet) on the parchment lined baking sheet and bake for 25 minutes. Remove from oven and cool for 10 minutes. Then slice each log into diagonal slices (12 per log) and place on the parchment lined sheets. Return to the oven and bake an additional 10 minutes or until crisp. Cool on a rack, these can be stored in an airtight container for up to 2 weeks. Make 4 dozen.
A Passion for Entertaining http://apassionforentertaining.com/