Do you have a chocolate craving? Chocolate Crinkles are the solution. These cookies are easy to prepare and require refrigeration prior to baking. You can make the dough early in the day and then bake the cookies later in the day. Form the dough into balls and roll then into a dish of confectioners' sugar and bake. They puff as they bake and make an incredible looking cookie, besides being absolutely delicious.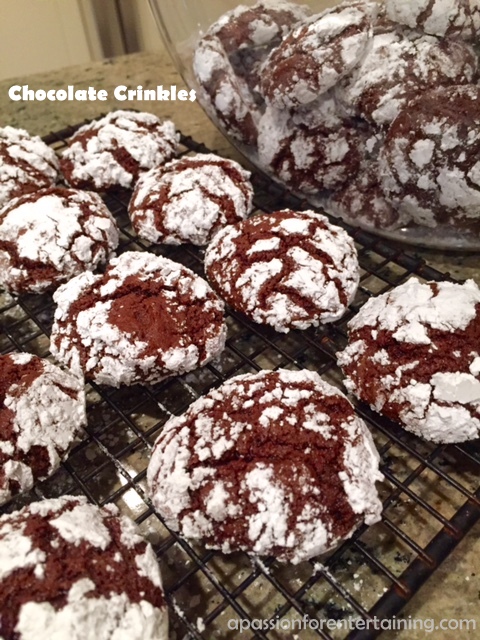 Chocolate Crinkles
2016-04-05 13:27:23
Ingredients
1 cup unsweetened cocoa powder
2 cups sugar
1/2 cup vegetable oil
4 eggs
2 teaspoons vanilla extract
2 cups flour
2 teaspoons baking powder
1/2 teaspoon salt
Confectioners' sugar
Instructions
In a medium bowl, mix together cocoa, sugar, and vegetable oil. Beat in eggs one at a time, then stir in the vanilla. Combine the flour, baking powder and salt; stir into the cocoa mixture. Cover dough, and chill for at least 4 hours.
Preheat oven to 350 degrees. Line cookie sheets with parchment paper. Roll dough into one inch balls. Roll each ball in confectioners' sugar before placing onto prepared cookie sheets.
Bake in preheated oven for 10 to 12 minutes. Let stand on the cookie sheet for a minute before transferring to wire racks to cool.
A Passion for Entertaining http://apassionforentertaining.com/