Recently, we spent a delightful weekend in Charleston, SC. Charleston is a great food town with lots of various eateries to try. One of our friends recommended the Fat Hen on St. John's Island for brunch. After a fun evening celebrating at a wedding and a late Sunday morning start, the idea of coffee and brunch was just what we needed. When we arrived at the Fat Hen, we were asked if we would like to start with their bakery basket. Well, of course, we were definitely interested. The bakery item of the day was chocolate chip muffins. What a wonderful way to start brunch with a great cup of coffee. I decided it was time to bake some chocolate chip muffins. Time to brew some coffee!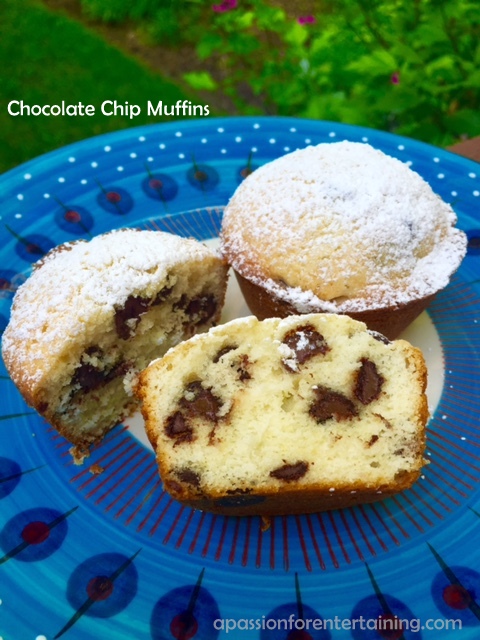 Chocolate Chip Muffins
2016-05-31 14:24:37
Ingredients
6 tablespoons butter, softened
1 1/4 cups sugar
2 large eggs
2 cups flour
1/2 teaspoon salt
2 teaspoons baking powder
1/2 cup milk
1 cup semi-sweet chocolate chips
Instructions
Preheat oven to 375 degrees. Grease 12 muffins cups.
Cream the butter with the sugar. Add the eggs, one at a time and beat well. Whisk together the flour, salt, and baking powder and add to the egg mixture alternately with the milk. Fold in the chocolate chips. Fill muffin cups 2/3 full. Bake for 20 minutes. Cool. Sprinkle with powdered sugar prior to serving.
A Passion for Entertaining http://apassionforentertaining.com/