Are you game day ready with your Super Bowl menu? If you are still looking for another great recipe to serve during the game – Chicken Wings with Jalapeno Pepper Sauce is the recipe for you. Go Team!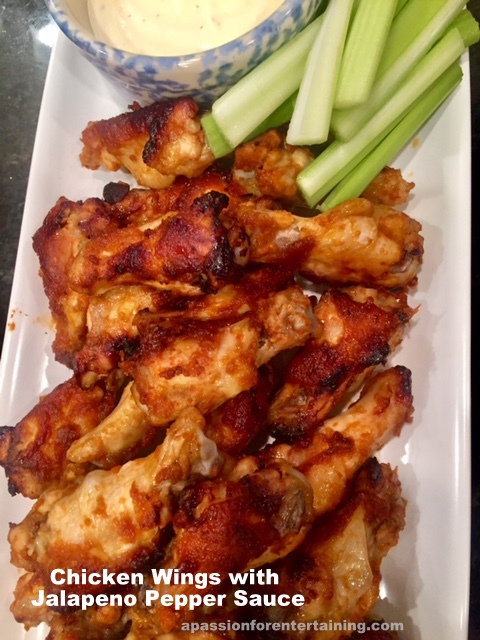 Chicken Wings with Jalapeno Pepper Sauce
2017-01-30 07:41:32
Ingredients
1 - 12 oz. bottle chili sauce
1/2 cup packed brown sugar
1/2 cup vegetable oil
1/2 cup white vinegar
1/4 cup catsup
1 medium onion
5 jalapeno peppers, seeded
2 tablespoons Worcestershire sauce
2 teaspoons salt
32 chicken wings (approx. 5 - 6 pounds)
Instructions
Combine first nine ingredients in container of an electric blender, process 30 seconds or until mixture is well blended.
Preheat oven to 375 degrees. Line a sheet pan with foil. Cut wings in half or purchase pre-cut wings. Place on foil lined sheet, spoon 1/2 of the sauce over wings. (Depending on number of wings you are cooking, you might need two sheet pans), Bake 30 minutes. Turn wings and top with the remaining sauce. If it appears to be too much sauce, reserve remaining sauce and refrigerate. Bake another 30 minutes or until fall of the bone tender.
If you like your wings to be crispy, remove wings and place on a rack on a baking sheet, return to the oven and bake an additional 10 - 15 minutes, watch carefully. Serve warm with ranch dressing and celery sticks.
A Passion for Entertaining http://apassionforentertaining.com/