Chicken with Olives and Stuffed Roasted Bell Peppers is a perfect week night meal or company fare. Moist chicken along with fresh mozzarella stuffed peppers, olives and drizzled with red pepper oil. Since I had fresh mozzarella in the refrigerator and had just picked up a bag of small sweet peppers, I decided to combine the two, toss in some olives and my what a sweet dinner it was. A feast for the eyes and well as a delicious feast with every bit I hope you will agree.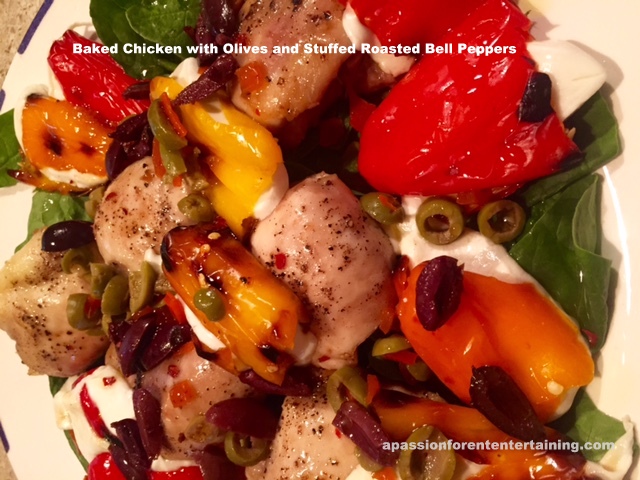 Baked Chicken with Olives and Roasted Stuffed Peppers
2016-08-16 15:54:37
Serves 4
Ingredients
12 small assorted bell peppers/various colors (I used the mini sweet peppers)
6 - 8 boneless skinless chicken thighs
olive oil
salt and pepper
fresh mozzarella cheese
1/2 cup assorted sliced olives
1/8 teaspoon crushed red pepper flakes
2 cups fresh spinach leaves
Instructions
Line a sheet pan with foil. Heat broiler to high heat. Place peppers on pan, broil 8 - 10 minutes until all sides of the peppers are charred, turn frequently. Remove from oven, wrap peppers in foil for 10 minutes. Remove peppers, slice one side of each pepper, open peppers and scrape out seeds. Set peppers aside.
Preheat oven to 375 degrees. Place chicken thighs on a baking sheet, drizzle with olive oil and salt and pepper. Bake chicken for 40 minutes. While the chicken is baking, combine 2 tablespoons of olive oil and crushed red pepper flakes in a small bowl, set aside. Slice mozzarella cheese into 1/4 inch slices, cut to approximate size of 1/2 of each pepper, place one piece in each pepper and fold over remaining half of pepper.
When the chicken has baked for 40 minutes, remove pan from oven, place stuffed peppers on baking sheet, return to oven for 3 - 5 minutes or until the cheese is beginning to melt in each pepper.
Line a serving plate with the spinach leaves. Remove chicken and stuffed peppers from the oven. Place on the bed of spinach. Top the chicken and stuffed peppers with the assorted sliced olives. Drizzle the red pepper infused oil over the entire dish. Serve.
A Passion for Entertaining http://apassionforentertaining.com/