Looking for a quick to fix dinner? Chicken Piccata is just the recipe, I dip my chicken breasts in beer prior to dusting with flour. This combination gives a beer batter type crust that is fantastic. If you plan on serving this with angel hair pasta, I would double the amount of dry sherry and lemon juice. That will give you enough sauce for your pasta. I serve this with roasted vegetables, outstanding week night dinner.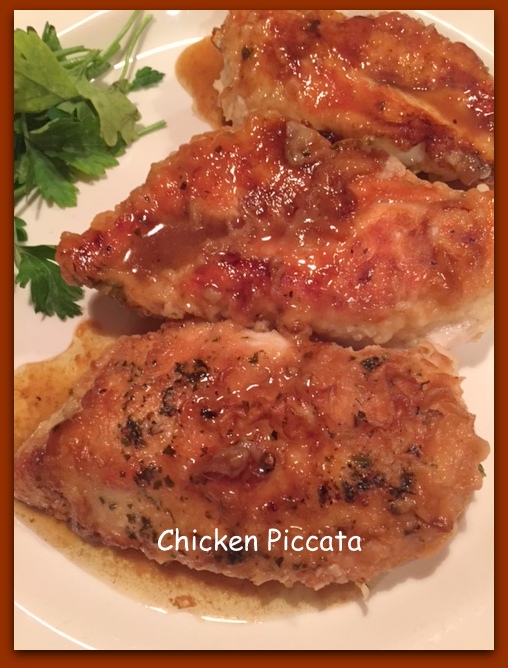 Chicken PIccata
2015-11-17 08:00:10
Serves 4
Ingredients
1 cup flour
1 teaspoon ground black pepper
1 teaspoon salt
1 tablespoon minced parsley
6 ounces beer
4 chicken breasts, boneless, skinless
1/4 cup olive oil
1/4 cup dry sherry
Juice on 1 lemon
Instructions
Combine flour, pepper, salt and parsley in shallow bowl. Pour beer into another shallow bowl. Dip chicken in beer and dredge in flour. Heat oil in a heavy skillet over medium-high heat. Brown chicken 5 minutes per side. Remove chicken, add sherry and lemon juice; cook over medium-high heat for one minute, scraping bottom of pan. Return chicken to pan; cover and cook over low heat for 15 minutes. To serve, place chicken on a platter, pour sauce over the chicken.
A Passion for Entertaining http://apassionforentertaining.com/