Looking for an easy dish to serve the next time you entertain? Chicken Broccoli Portobello Pasta is the perfect dish. Early in the day begin marinating the mushrooms and chicken, steam the broccoli, fire up the grill, cook your pasta and in under 30 minutes you have a great main course. Bring this beautiful entree to the table and you have a feast for your eyes as well as a feast for the hungriest of appetites. Easy, delicious and a great presentation – my way of entertaining!
( If you are lucky enough to have leftovers, it makes a terrific cold pasta salad the next day. Toss with a bit of ranch dressing and you are set. )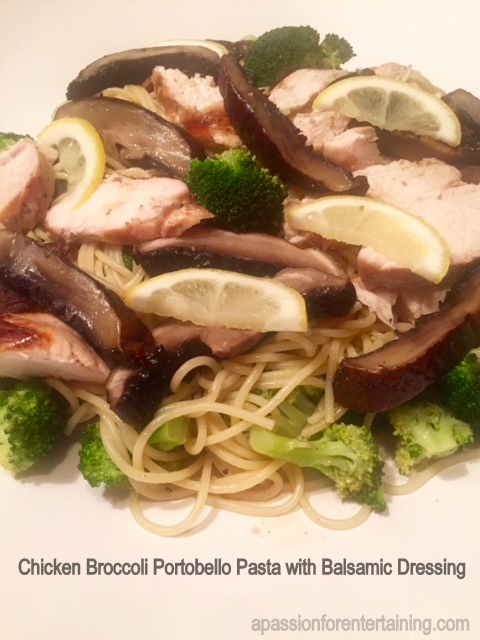 Chicken Broccoli Portobello Pasta with Balsamic Dressing
2016-09-06 10:41:16
Serves 4
Ingredients
Dressing
1/4 cup apple cider vinegar
3/4 cup olive oil
1 teaspoon salt
1/4 teaspoon pepper
1 tablespoon balsamic vinegar
2 teaspoons lemon juice
Chicken/Vegetables
6 portobello mushrooms
4 boneless, skinless chicken breasts
1 bunch of broccoli, cut into florets
1 16 oz. package thin spaghetti
Twist of lemon for garnish
Instructions
Combine dressing ingredients, set aside. Remove mushroom stems and place mushroom caps in a one gallon zip bag. Pour 1/2 of the dressing over the mushroom caps, cover and refrigerate for approx. 6 hours.
Transfer mushrooms to a plate and add chicken breasts to the marinade left in the zip bag, marinate for 30 minutes prior to grilling. Steam broccoli florets until tender when pieced with a fork (4-5 minutes), drain and set aside. Prepare grill. Bring a large pot of salted water to a boil. Grill chicken, approx. 8 minutes per side. Cook spaghetti according to package instructions. During the last 5 - 10 minutes of the chicken grilling, add the mushrooms and grill.
Drain pasta and toss with steamed broccoli and remaining dressing ( the 1/2 that was reserved). Top with grilled chicken and grilled mushrooms. Garnish with lemon twists.
A Passion for Entertaining http://apassionforentertaining.com/