If you love cheesecake, but hesitate making a large cheesecake that serves 12, this recipe is for you. These freeze beautifully, so you can make them ahead and freeze them. If you want to flavor these bars like your favorite cheesecake, just add or swirl in your favorite flavor. I was thinking how great these would be with a swirl of Nutella – I should have swirled in 1/2 cup of Nutella – what a treat those would be. The combinations are endless and the results will be great.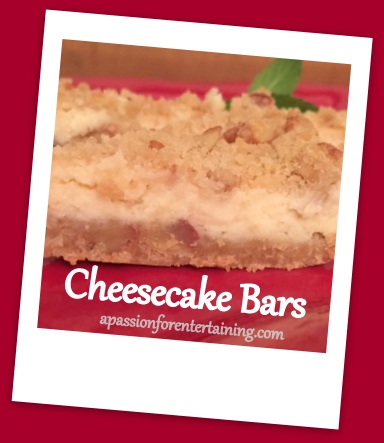 Cheesecake Bars
2015-07-13 15:23:25
Ingredients
5 tablespoons butter, room temperature
1/2 cup dark brown sugar
1 cup flour
1/2 cup chopped pecans
1/2 cup sugar
1 8 oz. package cream cheese, room temperature
1 egg
2 tablespoons milk
1 tablespoon lemon juice
1 teaspoon vanilla
Instructions
Cream butter and brown sugar, add flour and nuts and mix. Set aside 1 cup of mixture for topping. Press remainder in bottom of 8 x 8 inch baking dish. Bake at 350 for 12 minutes.
Blend sugar and cream cheese until smooth. Add egg, milk, lemon juice, and vanilla. Beat until light and creamy. Spread over cooked crust, top with reserved topping. Return to oven and bake an additional 25 minutes. Cool completely and refrigerated.
If you want to make a 9 x 13 inch pan, double ingredients.
A Passion for Entertaining http://apassionforentertaining.com/