Recently, I was working on a dinner party menu and wanted to serve soup for the first course. Since the days are getting cooler, I wanted to serve the soup on our porch near our chimenea with a crackling fire burning. I also decided to serve soft pretzels along with the soup. This soup turned out delicious, creamy and light, and just the accompaniment for dipping pretzels or crusty bread.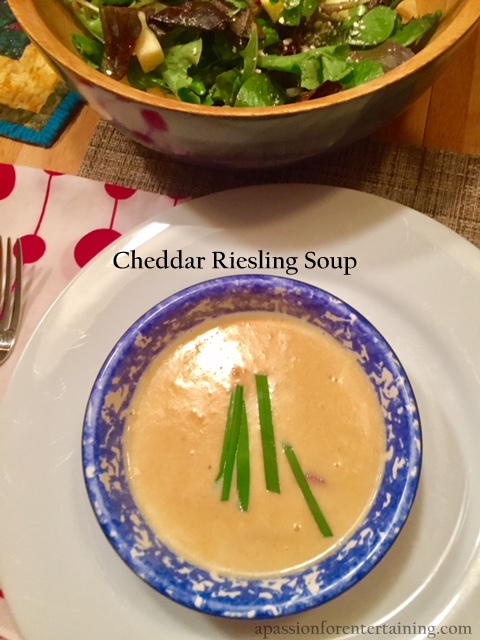 Cheddar Riesling Soup
2016-10-17 05:22:46
Ingredients
5 tablespoons butter
1/4 small onion, diced
1 clove garlic, minced
4 tablespoons flour
3 cups vegetable broth
1 1/2 cup heavy cream
1 1/2 cup Riesling
1 ring kielbasa, large dice
1 3/4 cups shredded cheddar cheese
Instructions
In a medium saucepan, melt butter, add onion, cook until onion is transparent. Add garlic and cook and additional minute. Stir in flour, cook until mixture bubbles, stir constantly. Slowly stir in broth and cream. Add Riesling and kielbasa, bring to a boil, reduce heat and cook slowly 30 - 40 minutes. Stir frequently. Stir in cheese and combine until all of the cheese is melted. Simmer for an additional 10 minutes, stir frequently. Serve.
A Passion for Entertaining http://apassionforentertaining.com/