Now that we know according to the yearly groundhog that we will be having six more weeks of winter, I think it is time to pull out the soup recipes. I have always tried to make soup on Sundays during the cold winter months. There is nothing better than a warm cup of soup with a salad or bread to sooth the soul on cold winter days. Soup always proves to be the perfect leftover for lunch or dinner during a busy week. This recipe is easy to prepare and perfect as a main dish or quick week night meal. Try adding cooked chicken for a great variation. Always delicious.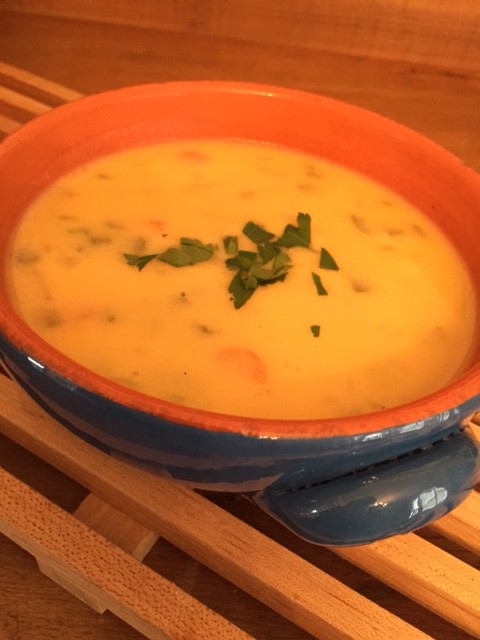 Cheddar Cheese Chowder
2015-02-02 11:14:27
Ingredients
4 tablespoons butter
1/2 cup chopped onion
1/2 cup chopped celery
1/2 cup chopped green bell pepper
1/2 cup chopped and peeled carrot
1 cup peeled and diced potato
3 cups chicken stock
1/2 cup flour
2 cups milk
3 cups shredded sharp cheddar cheese
Fresh cracked black pepper, to taste
Garnish, chopped fresh parsley
Instructions
Melt the butter in a large saucepan. Add the onion, celery, and green pepper, sauté over low heat for 10 minutes. Add carrot, potato, and chicken stock. Bring to a boil, reduce heat and simmer to 30 minutes.
Whisk the flour and milk together until smooth. Stir the milk mixture into the vegetable mixture and blend well. Add the cheese and stir until thick and bubbly. Garnish with parsley serve.
A Passion for Entertaining http://apassionforentertaining.com/