How many times have you taken a road trip to find yourself in the middle of a town that you know nothing about? Well, it happened to us on a recent road trip and being the foodie I am, I am always looking for a great place to eat. When checking into our hotel, they graciously gave us a list of local restaurants. After checking this list carefully, it looked to me to be a list that the hotel used to advertise various local restaurants, many of them large local chain restaurants. When we are visiting a new town, the last place I want to go is to a large chain restaurant. As a matter of fact, I don't frequent large chain restaurants in our own home town. There are so many more interesting restaurants to find, I avoid those large chains at all costs.
So, back to my restaurant searching. First stop on the internet, Trip Advisor. This at least gives me a starting point in my search. Next search, best local restaurants. After a few searches, I happened to find Midwest Magazines list of best restaurants. There I found Corndance Tavern in the South Bend area. Hands down one the best restaurants I have visited in a very long time. Farm to table and a very creative menu. Our server, Herman Fritz, was extremely knowledgeable and shared detailed descriptions of the menu which I really appreciated. Did I also mention they have a wonderful wine cellar. Definitely worth a try if you are in the South Bend area.
Below are a few of the excellent dishes we tried.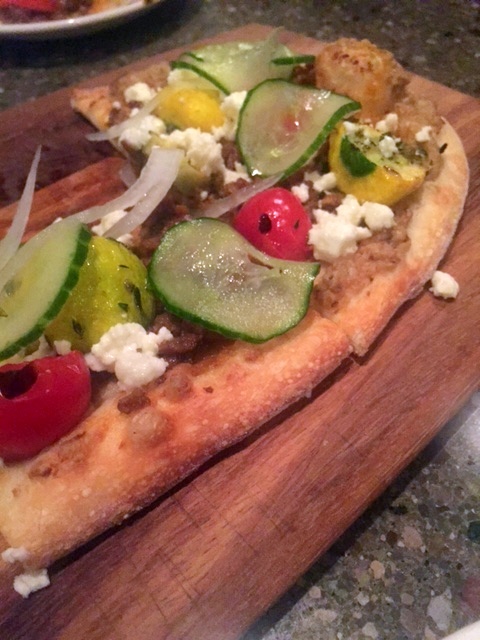 Merguez Sausage Flatbread with baba ghanoush spread, crumbled merguez sausage, roasted patty pan squash, charred cherry tomatoes, feta, topped with cucumber salad.
Bison meatloaf, spinach, fontinella cheese, toast points, bourbon shallot demi-glace, grilled caeser salad, crispy shoestring tobacco onions