We just returned from the upper Midwest where the weather is beautiful, waters are wonderful and the farmers markets are at their peak. When in the Midwest, you absolutely have to try the fresh sweet corn. Abundant and oh so sweet, the ultimate taste of summer. After I purchased corn at the market, it was back to stir up this delicious salsa. I have to admit, it was so delicious, we just could not stop eating it! Great as an appetizer served with tortilla chips, but this salsa would be equally delicious along side grilled chicken or over fish tacos.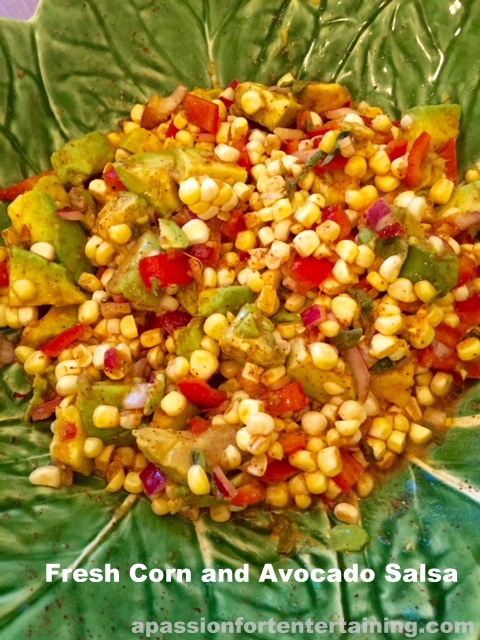 Fresh Corn and Avocado Salsa
2016-08-02 07:20:07
Ingredients
2 ears of fresh corn, husk remove and kernels cut off of the cob
2 tablespoons red onion, finely diced
1/3 cup olive oil
2 teaspoons ground cumin
2 tablespoons fresh oregano, minced
salt and pepper, to taste
2 avocados, ripe but firm, diced
1 red bell pepper, diced
1/4 cup red wine vinegar
4 - 8 tablespoons hot pepper sauce
1 teaspoon chili powder
1/2 cup lime juice
Instructions
Mix all vegetables together in a medium bowl. Combine olive oil, cumin, oregano, red wine vinegar, hot pepper sauce, chili powder and lime juice. Pour over vegetables and mix thoroughly, Salt and pepper to taste.
A Passion for Entertaining http://apassionforentertaining.com/