These are the perfect accompaniment to grilled meats or grilled Italian sausages. I use dried beans that I soak overnight. I think it is this one small step that sets these apart from using canned beans. This recipe includes prosciutto, fresh herbs and tomatoes. Truly a wonderful combination.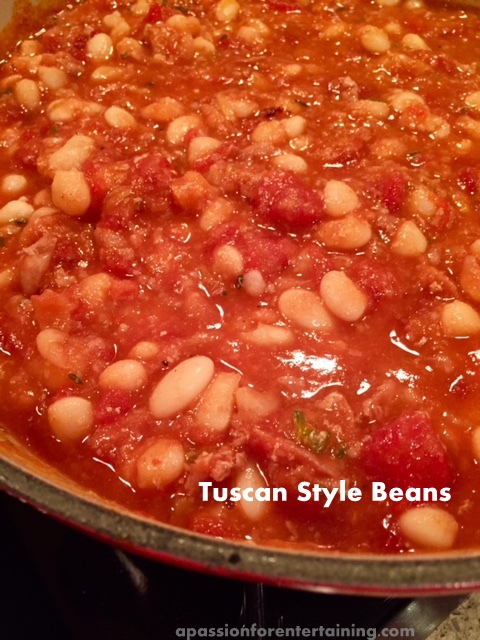 Tuscan Style Beans
2016-03-08 10:26:31
Serves 10
Ingredients
2 cups Great Northern white beans uncooked
4 cups water
1/2 pound prosciutto, chopped
2 teaspoons fresh thyme, chopped
2 teaspoons fresh rosemary, chopped
1 leek, white part only, rinse thoroughly and chop
2 tablespoons olive oil
1 28 oz. can plum tomatoes, drained and chopped
1 tablespoon balsamic vinegar
Salt and pepper, to taste
Instructions
Soak beans overnight in a large of water, add enough water to cover the beans and add an additional 1 inch of water. The next day, drain and rinse beans. Preheat oven to 300 degrees. In a large saucepan oven medium-high heat, bring 4 cups of water and the drained beans to a boil. Add the prosciutto, rosemary, thyme, leek, and oil. Bring to a boil. Transfer to a casserole dish with a cover or cover your oven proof saucepan and bake for 2 hours covered. Add tomatoes, cover and bake an additional 30 minutes. Just before serving, stir in balsamic vinegar, salt and pepper.
http://apassionforentertaining.com/