It is always fun to step out of your local area and see what is happening across the country. Have you ever been to a pizza farm? This was my first trip to a pizza farm and I will tell you, it will not be my last visit.  During our recent visit to Central Wisconsin, I was determined to visit a local farm, Stoney Acres.  After searching the internet I found this farm as the one that fascinated me the most about this new concept.  If you are wondering "What is a pizza farm"?, it is a concept where you visit the farm and the pizzas are made onsite with fresh organic ingredients from the farm.  The wheat is ground onsite for the flour for the dough.  The toppings are fresh from the farm, the bacon is cured on the farm, the cheeses are from local cheese shops that make the cheese from the local dairies – you get the point – farm to table onsite.  Many restaurants boost that their dishes are farm to table, on the pizza farm they are from the farm to the farm table.  We arrived at Stoney Acres at our reserved time after driving through miles of beautiful country side and picturesque farm lands.  You bring everything you need (plates, napkins, utensils, and beverages)  and the pizza is made in handmade pizza ovens that cook pizzas in two minutes at over 800 degrees.  You sit at communal tables and we just happened to sit with the parents of the pizza maker and owner of Stoney Acres and their close friends.  It was a banner night for me since I found out how this concept transpired and many details regarding their operation.  I could go on and on about how fantastic the night was and how delicious the pizzas are – but if you are ever in WI and looking for a wonderful food adventure, this is one stop you cannot miss!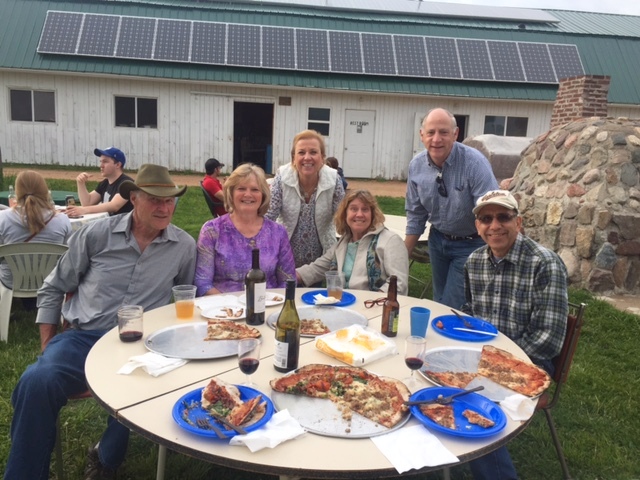 Enjoying our communal table at the pizza farm.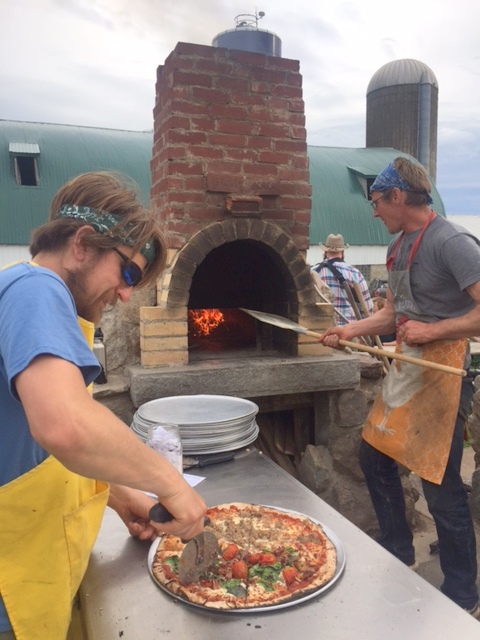 Tony Schultz (owner of Stoney Acres) with the pizza peel in hand.