I literally turned up the heat on this favorite dish. I heated the tomatoes until they were hot and sizzling and then poured them over the fresh mozzarella. This dish dances in your mouth, peppery arugula, melting mozzarella and warm tomatoes. I can't think of anything better to serve on a beautiful spring day. Perfect with grilled meats, fish or along side a juicy hamburger.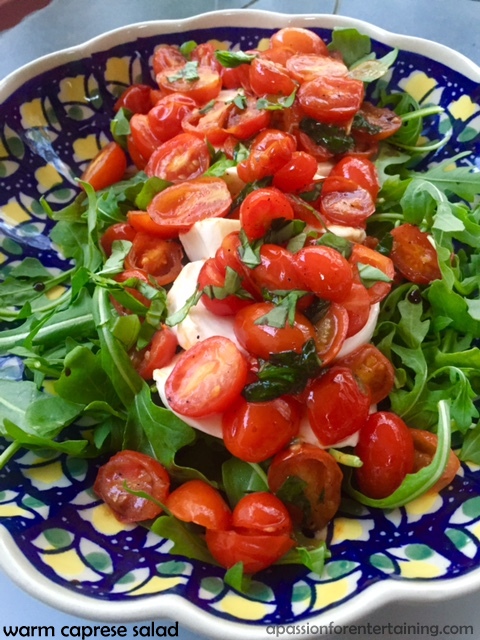 Warm Caprese Salad
2016-04-18 04:53:52
Ingredients
Arugula
12 oz. fresh mozzarella
1 pint cherry tomatoes, sliced in half
4 tablespoons fresh basil, chopped
Salt and pepper to taste
Olive oil
Balsamic vinegar
Instructions
Line a salad plate or bowl with arugula. Top with sliced fresh mozzarella. Heat a small saucepan over medium high heat. Add 2 - 3 tablespoons olive oil. When hot, toss in the tomatoes. Cook tomatoes until they are hot and sizzling, stir frequently. Salt and pepper tomatoes to taste. Stir in 1/2 of the chopped basil. Pour hot tomato mixture over mozzarella. Drizzle with balsamic vinegar and top with remaining basil.
A Passion for Entertaining http://apassionforentertaining.com/