Macaroni Salad is a summer staple. I am sure everyone has a family recipe or favorite recipe they make during the summer. There are so many variations to this basic salad. I even think that the term 'macaroni' has gone by the wayside in favor of pasta salad or other more intriguing names. However, I think there is nothing better to accompany grilled foods that a wonderful macaroni salad. I added my favorite pepper, Peppedews to this salad. If you prefer a more mild flavor you can certainly use chopped pimentos in place of the Peppedews. This is a best made early in the day or the day prior, so the wonderful flavors can meld together. If desired, you can certainly add tuna, chicken, shrimp or crabmeat to the salad.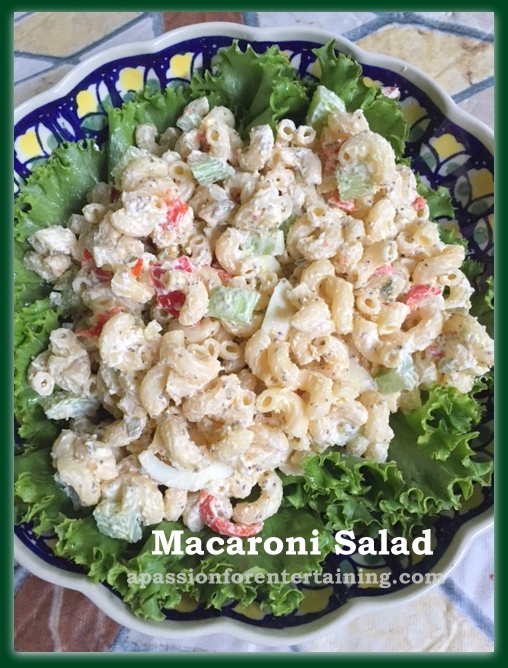 Macaroni Salad
2015-05-31 12:02:49
Ingredients
1 1/2 cups small shell or elbow macaroni, cooked according to package directions
1 tablespoon olive oil
2 stalks of celery, diced
5 Peppedew peppers, chopped
2 hard boiled eggs chopped
1 tablespoon Dijon mustard
1 tablespoon celery seed
1 tablespoon sweet pickle relish
1/2 cup mayonnaise
1/2 cup sour cream
Salt and pepper, to taste
Instructions
Drain pasta and mix with olive oil. Chill. Add all of the remaining ingredients. Chill until serving.
http://apassionforentertaining.com/