Every once in awhile it is fun to make something unexpected. Baked Doughnuts are the perfect thing to make when you want to experiment in the kitchen and serve an unexpected delight. I want to think these are a bit healthier than traditional fried doughnuts since these are baked. So, when you want to make something special, these are the perfect treat!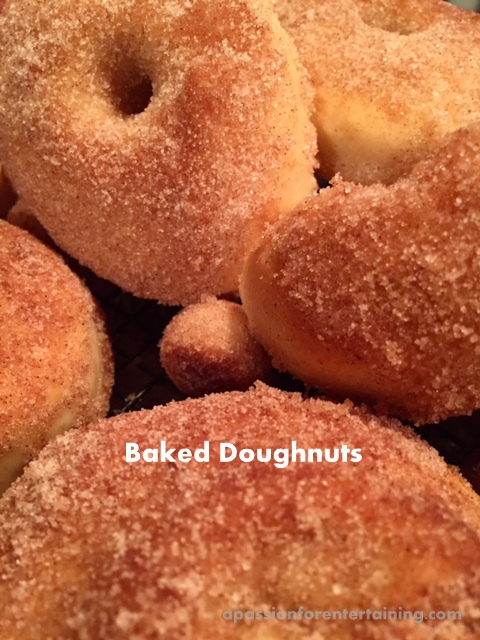 Baked Doughnuts
2016-03-08 10:40:41
Ingredients
2 packages active dry yeast
1/4 cup water
1 1/2 lukewarm milk
1/2 cup sugar
1 teaspoon salt
1 teaspoon ground nutmeg
1 teaspoon ground cinnamon
2 eggs
1/3 cup shortening
4 1/2 - 5 cups flour
1/4 cup butter, melted
Instructions
In a large mixing bowl, dissolve yeast in warm water. Add warm milk, sugar, salt, nutmeg, cinnamon, eggs, shortening and two cups flour. Blend 1/2 minute on low speed, scraping bowl frequently. Beat for 2 minutes. Stir in remaining flour until smooth (start with 4 1/2 cups flour and add additional until you have a smooth dough). Cover and let rise in a warm place or until double (50 - 60 minutes). Turn dough onto floured board, knead lightly until smooth. Dough will be soft. Roll dough out to 1/2 inch thickness. Cut out with doughnut cutter or two different sizes of round cutters (inside cutter should be about the size of a thimble). Lift cut-out doughnuts to a parchment lined baking sheet. Brush with melted butter. Cover and let rise until double in size approx.20 minutes. Heat oven to 425 degrees. After doughnuts have doubled in size, bake 8 - 10 minutes. Brush with additional butter after baking and shake in cinnamon sugar, plain sugar or confectioner's sugar. Makes approx. 2 dozen.
Notes
Bake your doughnuts holes too, just watch when baking and remove from the baking sheet as soon are they are golden brown. They will cook much quicker than your doughnuts.
A Passion for Entertaining http://apassionforentertaining.com/