If you are ever looking for a quick egg recipe for breakfast or brunch, that does not require overnight preparation or separating eggs and beating egg whites, this recipe is for you. Quick to prepare, made with ingredients you probably have on hand, and delicious served piping hot out of the oven. As the souffle bakes, it will puff and turn golden brown. Serve immediately. A dramatic and delicious presentation for your breakfast table.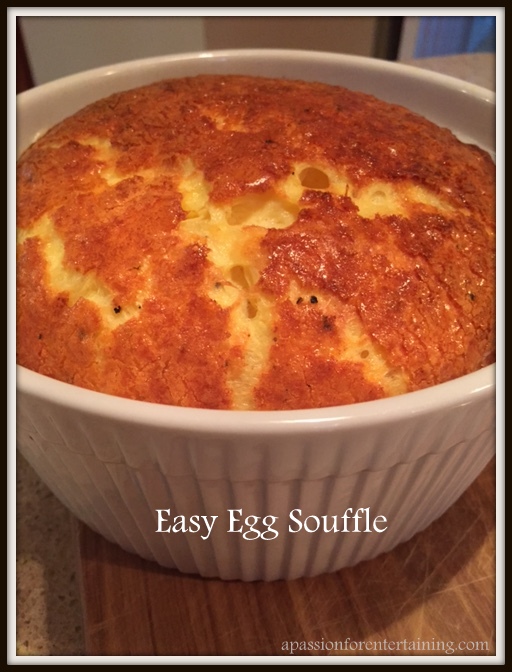 Easy Egg Souffle
2015-12-27 13:21:14
Serves 6
Ingredients
6 large eggs
1 cup heavy cream
1 teaspoon salt
Freshly ground black pepper, to taste
1/4 teaspoon nutmeg
1 1/2 cups grated cheddar cheese
1/2 cup grated parmesan cheese
Instructions
Preheat oven to 425 degrees.
Beat eggs with a wire whisk until thick and light. Mix in cream, salt, pepper and nutmeg, beat well. Fold in the cheeses. Pour into a well buttered 1 1/2 quart baking dish. Bake 35 - 40 minutes or until puffed and golden brown. Serve immediately.
A Passion for Entertaining http://apassionforentertaining.com/