Who doesn't love a delicious bowl of onion soup topped with a cheese crouton? I was curious where this soup originated from – I assumed France since it is typically called French Onion Soup. To Wikipedia I went and here is what I found:
Onion soups have been popular at least as far back as Roman times. Throughout history, they were seen as food for poor people, as onions were plentiful and easy to grow. The modern version of this soup originates in Paris, France in the 18th century, made from beef broth, and caramelized onions. It is often finished by being placed under a grill in a ramekin with croutons and cheese melted on top. The crouton on top is reminiscent of ancient soups.
This soup requires time, so definitely not a thirty minute meal. Slowly caramelizing the onions is the key to this delicious soup; that is the reason I titled my soup Caramelized Onion Soup.
A delicious treat on a cool spring evening.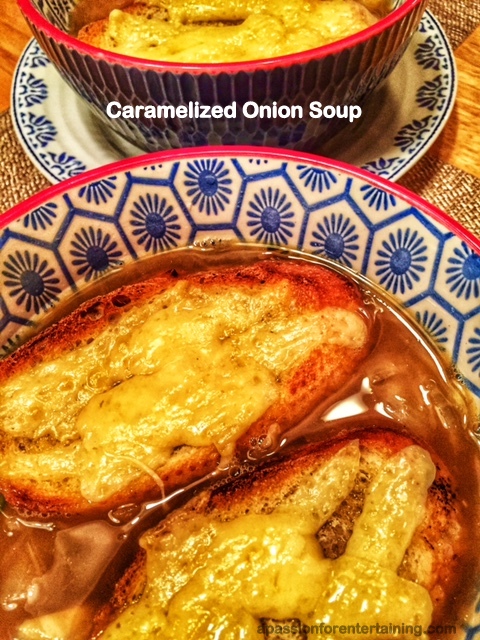 Caramelized Onion Soup
Ingredients
3

sweet yellow onions,

sliced thin

2

tablespoons

butter

1

teaspoon

sugar

2

quarts

beef broth

2

teaspoons

fresh thyme

minced

1

teaspoon

salt and pepper

or to taste

1/4

cup

sherry

1/2

baguette

sliced in 1/2 inch slices

8-10

ounces

gruyere cheese

grated
Instructions
In a large dutch oven, melt butter, add sliced onions, sugar and salt. Cook for approximately one hour over medium low heat, stirring frequently until onions are caramelized and dark brown. Add stock, thyme, sherry, salt and pepper. Simmer on low for 45 additional minutes.

Preheat broiler. On a foil lined baking sheet place baguette slices and top with grated cheese. When ready to serve the soup, broil bread sliced until cheese is melted and edges begin to brown, watch carefully.

Ladle soup into bowls and top with toasted bread slices, serve.