Sometimes I think my kitchen is more of a chemistry lab than a kitchen. I love candied oranges, however, they are definitely pricey when you see them and not readily available. So, I thought I would try my hand at making candied oranges. They are the perfect accompaniment to a cheese tray, great to chop and mix in muffins or quick breads, an interesting addition or garnish for cocktails, delicious served with whipped cream mixed with brandy, serve sliced with an after dinner cordial and my latest concoction – chop two candied oranges and mix into one-half gallon of vanilla ice cream and top with chocolate sauce. Below I have highlighted another fantastic Virginia food find I came across Willie Byrd Chocolate Sauce , I heated and topped my candied orange ice cream with this and all I can say is… unbelievably delicious!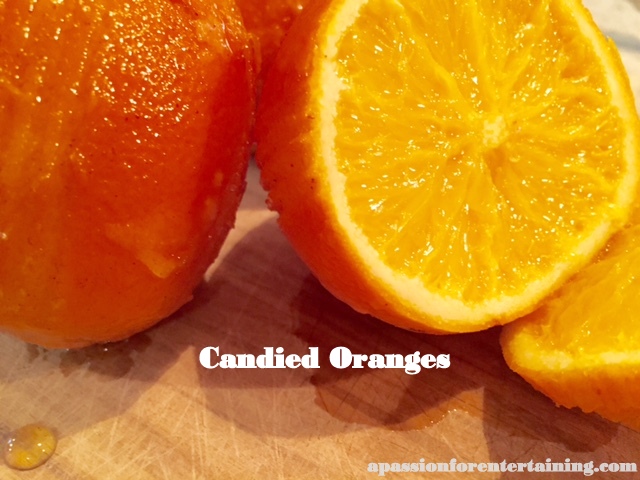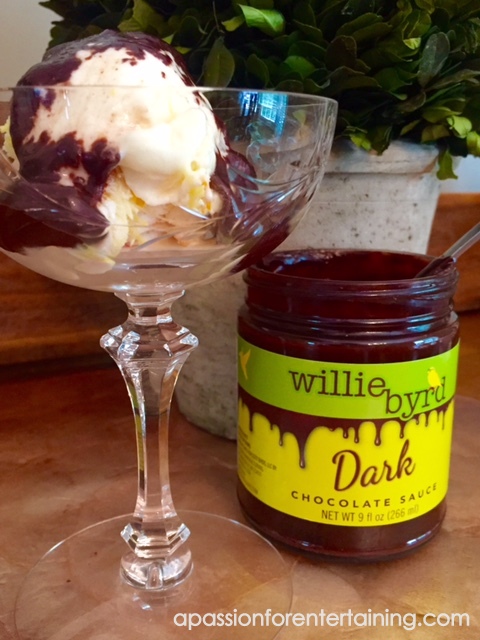 Candied Oranges
2016-04-29 13:31:08
Ingredients
1 1/3 cup sugar
4 cups water
2 teaspoons vanilla extract
1 teaspoon ground cinnamon
6 seedless oranges, score rind
Juice of 1/2 lemon
Instructions
In a heavy sauce pan that will hold 6 oranges snugly, combine water, sugar, vanilla, and cinnamon. Bring to a boil and boil for 10 minutes. Add oranges, reduce heat to low, cover and cook for 2 hours. Turn oranges every 1/2 hour. After 2 hours, remove the lid and bring the syrup with the oranges in it to a boil. Boil until the syrup is thick, this will take about 10 minutes. Turn oranges frequently so they do not brown. When syrup has thickened, remove the pan from the heat and let the oranges cool in the syrup. Turn the oranges so the syrup coats the oranges as they cool. Refrigerate the oranges when completely cool. Candied oranges will keep for at least 2 weeks refrigerated.
A Passion for Entertaining http://apassionforentertaining.com/