If you like Waldorf Salad and brussel sprouts, I think you will really like this salad. I took the two and melded them together to create this delicious salad. I prepared the brussel sprouts and while they were cooking, mixed the remaining ingredients in my salad bowl. Blended the warm brussel sprouts, remaining salad ingredients and dressing in my salad bowl. Tossed completely and served. A wonderful combination of hot and cold all topped with a creamy dressing.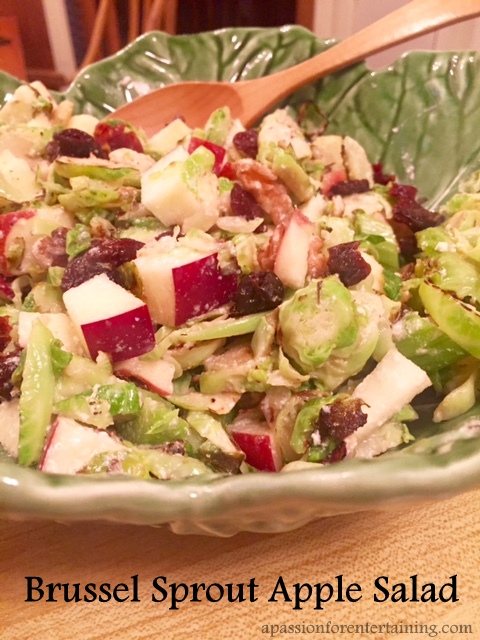 Brussel Sprout Apple Salad
2016-05-14 10:21:53
Serves 4
Ingredients
12 oz. brussel sprouts, thinly sliced
1 tablespoon each of olive oil and butter
1 apple, diced
1 stalk of celery, diced
1/3 cup walnuts, chopped
1/3 cup dried tart cherries or dried cranberries
Dressing
5 tablespoons half and half
3 tablespoons white wine vinegar
1 1/2 teaspoons Dijon mustard
1/4 teaspoon sugar
Instructions
In a large sauce pan, heat 1 tablespoon of olive oil and 1 tablespoon of butter. Add brussel sprouts and stir frequently until they begin to lightly brown. While the brussel sprouts are cooking, combine the remaining salad ingredients in a bowl. Mix the dressing ingredients together. Continue to cook the brussel spouts just until parts begin to brown and they are crisp tender. Toss the brussel sprouts with the remaining salad ingredients. Top with dressing and toss. Serve.
A Passion for Entertaining http://apassionforentertaining.com/