One of my favorite sandwiches is a BLT. In my opinion bacon, lettuce, tomato and toasted bread make the most magnificent sandwich. Here is a deconstructed version with roasted corn and topped with an avocado cream dressing. For that crusty bread, I added toasted baguette slices chopped as croutons. This is the perfect main dish or side salad, perfect with grilled meats, poultry or fish. If you are a fan of a wonderful BLT sandwich, this is a must try.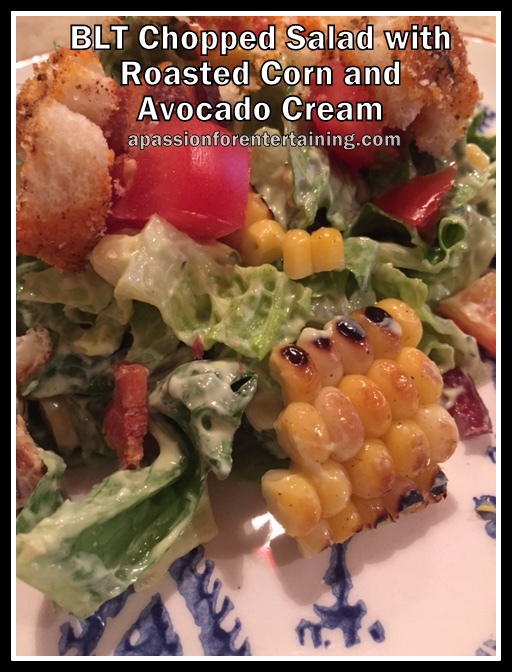 BLT Chopped Salad with Roasted Corn and Avocado Cream
2015-04-08 07:44:12
Ingredients
Romaine lettuce, thinly sliced
2 tomatoes, cubed
2 pieces of applewood smoked bacon, cooked and crumbled
1 avocado
1/2 cup sour cream
2 teaspoons lime juice
1 tablespoon olive oil
Salt and pepper, to taste
2 ears of corn
1 tablespoon of butter
1 tablespoon of olive oil
Baguette slices,toasted or purchased crostini
Instructions
In a food processor, combine avocado, sour cream, lime juice, olive oil and salt and pepper. Pulse to combine. This dressing can also be prepared by mashing the avocado, add remaining ingredients and whisk until smooth.
Heat a heavy skillet over medium high heat and add 1 tablespoon of butter and 1 tablespoon of olive oil, roast corn on all sides until slightly charred. This will take 10 - 15 minutes. Cut corn off of cob.
Combine salad ingredients, toss with dressing. Top with toasted bread slices, crumbled. Serves 4.
A Passion for Entertaining http://apassionforentertaining.com/