How could I pass up beautiful blackberries this week at the Farmers' Market. Well, as you can tell I didn't pass them by. I headed home and made two of our favorites; Blackberry Breakfast Bars and Blackberry Custard Pie. Both so easy to prepare and both recipes highlight the taste of these exquisite berries.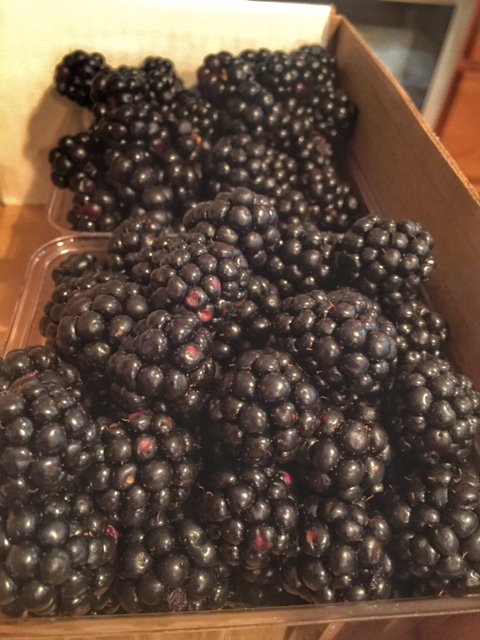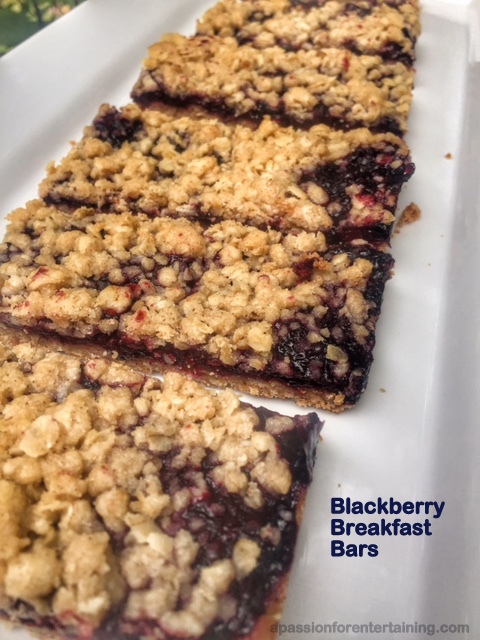 Blackberry Breakfast Bars
Ingredients
2

cups

fresh blackberries

2

tablespoons

sugar

2

tablespoons

water

1

tablespoon

fresh lemon juice

1/2

teaspoon

ground cinnamon

2

tablespoons

water mixed with 2 teaspoons cornstarch

1

cup

flour

1

cup

quick oats

2/3

cup

packed brown sugar

1/4

teaspoon

cinnamon

1/8

teaspoon

baking soda

1/2

cup

melted unsalted butter
Instructions
Prepare the filling: in a medium saucepan combine the berries, sugar, water, lemon juice and cinnamon. Bring to a boil, reduce heat continue boiling for 8 minutes, stir occasionally. Add cornstarch water mixture, return to a boil and boil an additional one minute, stirring constantly. Remove from heat.

Preheat oven to 350 degrees. In a mixing bowl combine the oats, brown sugar, cinnamon, baking soda and butter. Stir until well combined. Reserve 1 cup of mixture for the topping. Press the remaining into a parchment lined 9 inch square baking dish. Bake crust for 20 minutes. Remove from oven, spread with blueberry filling and crumble remaining 1 cup of oat mixture over the top. Bake an additional 25-25 minutes. Cool, cut into bars.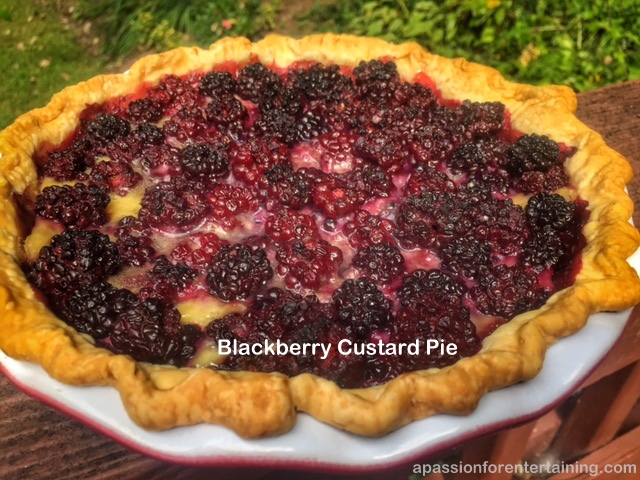 Blackberry Custard Pie
Ingredients
1

unbaked

pie shell

3

cups

fresh blackberries (you could also use peaches)

2

eggs, lightly beaten

2/3

cup

granulated sugar

1/4

teaspoon

salt

2

tablespoons

flour

1/2

cup

milk

1

teaspoon

vanilla extract
Instructions
Preheat oven to 400 degrees. Arrange blackberries in pie shell. Mix remaining ingredients in a medium bowl until well combined. Pour over berries. Bake 10 minutes, reduce heat to 375 degrees and bake an additional 30 - 40 minutes or until a knife inserted in the middle comes out clean. Cool prior to slicing. Top with whipped cream, if desired. Store pie in the refrigerator.