I remember years ago the small bakery in England where we had scones during afternoon tea. After that day, I became a huge fan of scones. I had some fresh blueberries in the refrigerator, dried cranberries and cherries in the pantry. A cool winter afternoon and I thought what a great day for scones. My house smells delightful and I am ready to bring out the tea pot.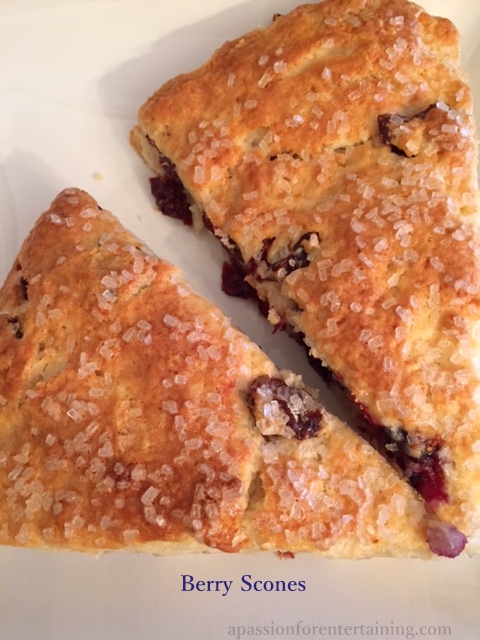 Berry Scones
2016-02-05 12:59:28
Serves 8
Ingredients
2 1/2 cups flour
1/4 cup sugar
2 teaspoons baking powder
1/2 cup unsalted butter, well chilled
1 1/4 mixed berries, fresh or dried
1/8 teaspoon salt
1 large egg, beaten
1 1/4 cup heavy cream
Instructions
Preheat oven to 425 degrees.
Line a baking sheet with parchment or grease the baking sheet.
In a large mixing bowl, mix flour, sugar and baking powder. Cut butter into small cubes and add to dry mixture, using a pastry blender or your fingers combine until butter is in very small pieces. Stir in fruit. Add egg and cream and mix until combined. I use my hands to incorporate the last amount of flour mixture. Place dough in the center of the baking sheet and pat into a circle approximately 1 inch thick. Mound slightly in the center. Brush top with additional cream and sprinkle with coarse sugar, if desired. Score circle into eight wedges. Bake in preheated oven for 20 - 25 minutes. Remove from baking sheet.
A Passion for Entertaining http://apassionforentertaining.com/