This is a very light and refreshing salad. Even though an unexpected combination, you will find that the flavors are spectacular together. Use the dressing sparingly, you can always add more. I find that drizzling the dressing over each plated salad makes a beautiful presentation. You can also add grapefruit, blood orange slices or any other citrus combination you prefer.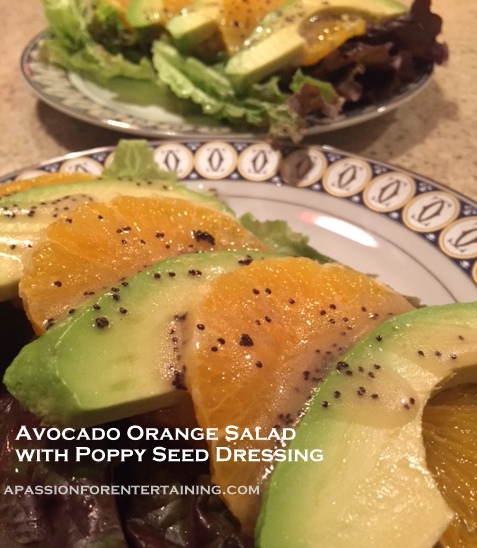 Avocado Orange Salad with Poppy Seed Dressing
2015-03-08 14:18:31
Ingredients
Salad ingredients to include lettuce varieties, avocados and citrus slices.
Poppy Seed Dressing
1/4 cup honey
1/4 cup apple cider vinegar
1 tablespoons Dijon mustard
2 tablespoons poppy seed
1/3 teaspoon salt
2/3 cup canola oil
Instructions
Combine all dressing ingredients in a screw top container. Shake vigorously until the dressing thickens. Refrigerate. Shake well before using.
A Passion for Entertaining http://apassionforentertaining.com/