When was the last time you tried barley and bulgur? Barley is a healthy high-fiber and high-protein grain with a rich nutlike flavor. Bulgur is a high-fiber, low-fat, and low-calorie grain, found many times in MIddle Eastern dishes. This side dish combines the best in grains and vegetables, the artichokes add flavor and texture. This casserole is the perfect accompaniment to meats, poultry, and seafood. This combination of grains with spinach and vegetables makes this a perfect main dish for a vegetarian on your guest list.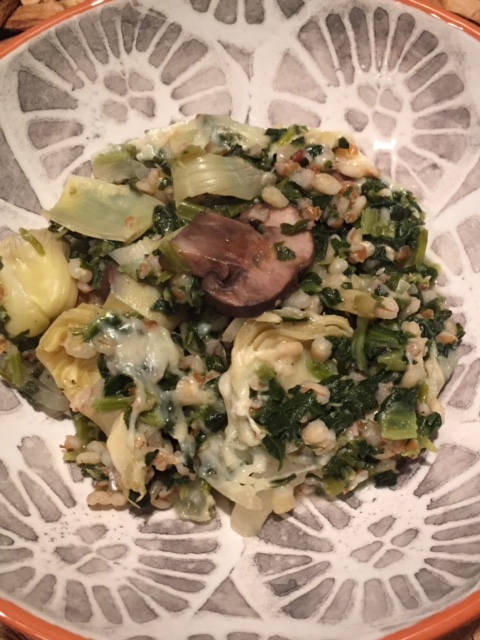 Artichoke Spinach Multi-Grain Casserole
2015-01-27 15:42:52
Serves 6
A great side dish to serve with meat, poultry, or fish
Ingredients
1 1/3 cup chicken or vegetable broth
1/2 cup barley
3 tablespoons bulgar
1 small onion, chopped
1/4 cup Italian parsley, chopped
1 14 oz. can artichokes, drained and chopped
1 cup sliced crimini mushrooms
10 oz. frozen chopped spinach, cooked and drained
1/2 cup parmesan cheese, grated
Salt and pepper, to taste
Instructions
Combine all ingredients in a 2 quart casserole dish. Bake covered 350, 50 - 60 minutes or until tender. If desired, when tender, remove cover and top with an additional 1/2 cup of parmesan cheese. Return to oven and bake until melted.
A Passion for Entertaining http://apassionforentertaining.com/