This description will be brief – my husband thinks this is the best cake I have ever made!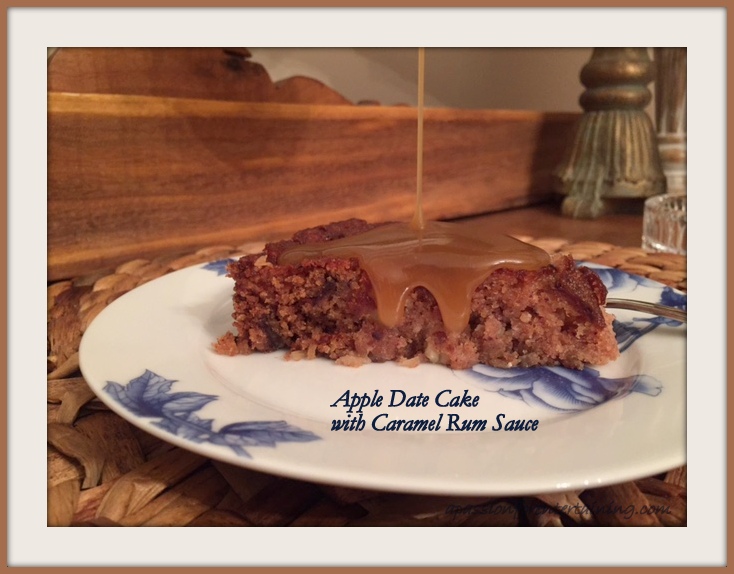 Apple Date Cake with Caramel Rum Sauce
2016-01-27 07:14:22
Ingredients
1 cup pitted dates, chopped
1 teaspoon baking soda
1 1/4 cups flour
3/4 teaspoon baking powder
1/4 teaspoon salt
1/2 cup unsalted butter, softened
1 1/4 cups sugar
1 egg
1 teaspoon vanilla
1 apple, peeled and chopped
1/2 cup flaked coconut
Instructions
Preheat oven to 350 degrees.
Grease a 9-inch springform pan and line the bottom with parchment paper. In a small saucepan bring dates and 1 cup of water to a boil. Remove from heat and stir in baking soda ( it will foam) set aside and cool to room temperature. In a large mixing bowl, combine butter, sugar, egg and vanilla and beat until smooth. Slowly add cooled date mixture. Add flour, baking powder, and salt. Beat until combined. Fold in apple and coconut. Spread in prepared pan. Bake 45 - 55 minutes or until a cake tester comes out clean. Cool on rack. Run a knife around sides of springform before releasing sides. Carefully remove sides and parchment. Serve with caramel rum sauce.
Notes
Caramel Rum Sauce
In a small saucepan combine 1/2 cup packed brown sugar, 1/2 cup sugar, 5 tablespoons butter, 1/2 cup heavy cream. Bring to a boil and boil one minute. Remove from heat and add 1 tablespoon of rum. Serve warm or at room temperature.
A Passion for Entertaining http://apassionforentertaining.com/