This Apple Breakfast Bake bakes to a puffed golden brown and then after being removed from the oven, shrinks to form a crispy crust and custard like filling. Perfect with the baked apple layer and brown sugar crust. This would be a great addition to any breakfast buffet. You can double this recipe easily and bake in a 9 x 13 inch pan if you are entertaining a larger crowd.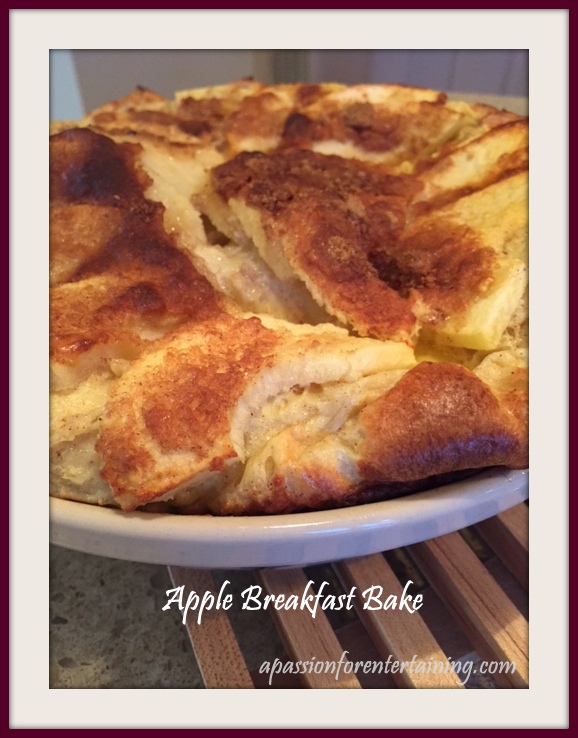 Apple Breakfast Bake
2015-12-20 12:49:42
Ingredients
1/4 cup butter
2 apples, peeled and thinly sliced
3 eggs, beaten
1/2 cup flour
3/4 cup milk
1 1/2 tablespoons sugar
1 teaspoon vanilla
1/4 teaspoon salt
1/2 teaspoon cinnamon (divided)
2 tablespoons brown sugar
Instructions
Preheat oven to 425 degrees.
Put butter in a 9 inch pie plate and put in preheated oven until the butter has melted. Remove and layer apple slices over melted butter.
Mix together eggs and milk. Beat in flour, sugar, vanilla, salt and 1/2 teaspoon cinnamon. Pour batter over apples and sprinkle with brown sugar and the other 1/2 teaspoon of cinnamon.
Bake on middle rack for 20 - 30 minutes or until it is golden brown and puffed.
Serve immediately.
A Passion for Entertaining http://apassionforentertaining.com/