What a delight for the eyes when you enter any produce department this time of year and see pumpkins, apples and fall produce – I definitely wanted to cook a fall meal. My husband, my chief taste tester, said this was one of the best recipes I have concocted. He told me to post that you should definitely serve this at your next dinner party or when you want to impress anyone with your cooking skills. It is so easy and delicious, you cannot go wrong with this recipe! After those praises from my chief taster do I need to say more?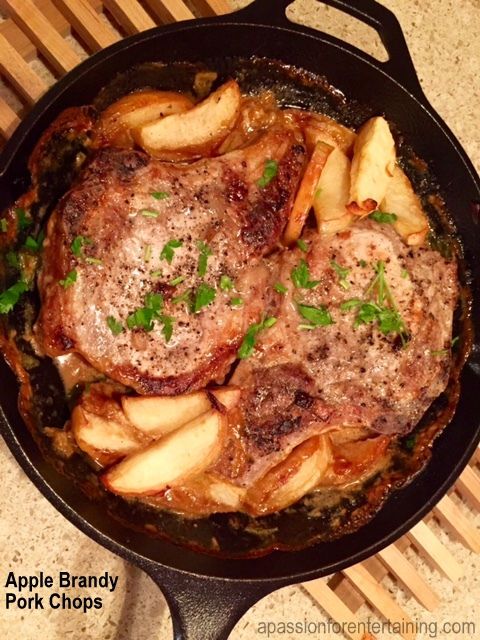 Apple Brandy Pork Chops
2016-09-14 07:42:31
Serves 2
Ingredients
2 tablespoons vegetable oil
1 large shallot, diced
1 apple, sliced (I used a Honeycrisp apple)
2 1-inch thick pork chops with bone-in
salt and pepper
1/3 cup apple brandy
1/2 cup heavy cream
2 tablespoons Italian parsley, chopped
Instructions
Preheat oven to 350 degrees. In a medium ovenproof skillet ( I used my cast iron skillet) heat over medium to medium-high heat, add oil. When hot, add shallots and apples. Cook stirring frequently until shallots are soft and apples are golden, remove from skillet. Salt and pepper chops on both sides, add to hot skillet and cook until golden brown on both sides. When brown, remove from skillet. Add brandy to skillet and deglaze pan, stir in cream and 1/2 of the parsley. Bring to a boil. Add chops, apples, and shallots. Place skillet in preheated oven and bake 45 minutes. Remove from oven, top with remaining parsley and serve. I served with egg noodles, would also be terrific to serve with a wild rice mix.
Notes
Serving more than 2? This amount of sauce would be perfect for 4 pork chops, if serving more, double the amount of shallots, apples,brandy and cream amounts, bake in a 9 x 13 baking dish.
A Passion for Entertaining http://apassionforentertaining.com/