Looking for that perfect dessert that can be made ahead, easy to prepare, and in your freezer? This dessert is just the one for your next dinner. I have made these for years and every time I serve them, everyone loves them. Great to top with whatever fresh fruit is in season. Quick, easy, delicious……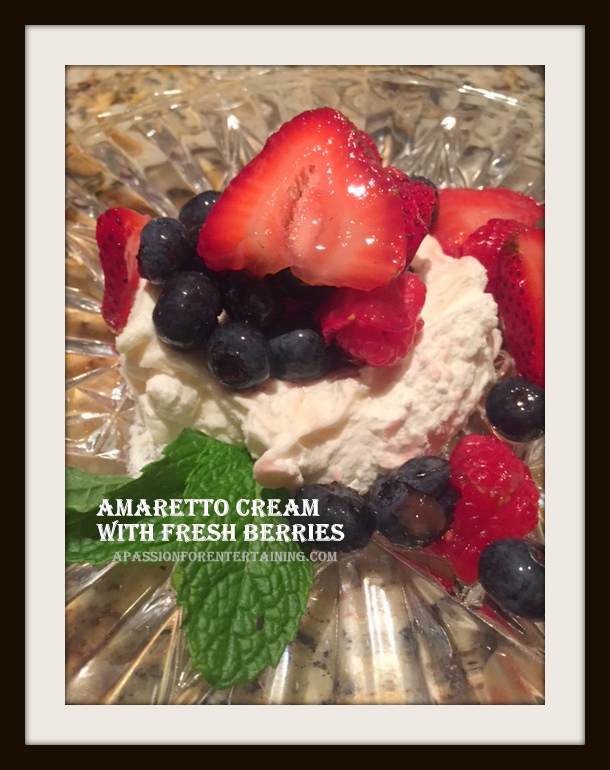 Amaretto Cream
2015-04-14 15:08:27
Ingredients
1 8 oz. package, cream cheese, softened
1/2 cup sugar
1/4 cup amaretto
1 cup whipping cream, whipped
Fresh fruit for topping
Fresh mint for garnish
Instructions
Combine cream cheese, amaretto and sugar in a medium bowl, beat until smooth. Fold in whipped cream. Line a baking sheet with parchment. Drop 8 equal mounds on sheet, smooth with a knife and make an indentation in the top. Freeze.
When ready to serve, remove from the freezer and top with fresh berries. Garnish with mint.
Notes
I like to mix sliced fresh fruit with 2 tablespoons of sugar, stir and refrigerate 2 - 4 hours prior to serving.
A Passion for Entertaining http://apassionforentertaining.com/